It's bitesize time again! Here are another 4 of my recent reads that probably won't get their own full length reviews – but sometimes there's nothing wrong with something a little smaller!
The Cursed Sea by Lauren DeStefano – 1.5/5 stars
I gave the same rating to The Glass Spare – the first book in the series. So why did I carry on with the series? Well, 2 reasons: 1) It's a duology, and I crave those. I can't help myself – maybe The Cursed Sea will offer redemption? (nope). And 2) We're in lockdown in the UK – I'm bored.
Well, there's not much to report on here. A lot of the problems that The Glass Spare has are in The Cursed Sea too. Urgh. Our characters are still 1 dimensional, the romance is bleurgh and forced, and the pacing is ALL over the place!
It kinda felt like there were some things that were supposed to happen but never did –did the author forget? Did she not know how to do it? We got some 'almost not quite' hints at some almost set-up of potential plot movements, but we don't get any. How irritating. Plus, I was getting whiplash from how fast the scenes jumped around. What a shame.
With The Fire On High by Elizabeth Acevedo – 3.5/5 stars
I really enjoyed the story – we follow a teen mum who is following her culinary dream whilst balancing school and her baby.
I really appreciated the culinary aspect of this – it's the whole reason I decided to read it. Well, that and the cover! Omg!
I got a little bit fed up with the repetitiveness. Petty things really, like how Emoni (our MC) always calls her daughter Babygirl….even though her name is Emma. I actually agreed with one of the antagonists here – stop calling her that, you'll confuse her! Seriously, I think I counted only twice where she called her Emma! In the whole book!
Another thing that bothered me was how many times Emoni released a breath she didn't know she was holding. We all know that this is a cardinal sin in literature in general – but particularly in YA… THREE times! THREE times Emoni did this! Urgh!
But my real gripes for dropping some stars is the flow. I just didn't feel like the chapters flowed easily into each other and it seemed a bit disjointed at times. I liked the idea, and I liked the story, but it wasn't as mind-blowing to me as it seems to be to others.
Smoke And Key by Kelsey Sutton– 3.75/5 stars
This was a fun little YA romp with mystery twists thrown in!
I love the idea of someone waking up from their grave, (but not in ther horrific way, as in the new life way) and exploring what was next in 'life'
So our MC, Key, wakes up in her grave and falls through it, ito Under. Under is a place where no one remembers who they are and so Key makes it her mission to figure it all out.
There's mystery, intrigue and romace.
It's not a bad little standalone YA fantasy at all.
Kim Jiyoung, Born 1982 by Cho Nam-Joo – 2.75/5 stars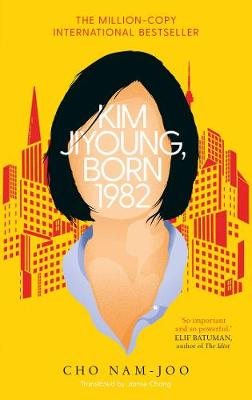 I really wanted to like this book. I really, really did. But I don't think I got what everyone else got out of it.
It's an important story, for sure. And it brings to light some really important issues that are facing women, and especially women in South Korea. But I felt like this had less story and more facts. It felt like a bit of a souless documentary at times.
I mean, the book even had footnotes.
I just wish that I connected more with the characters, because I really wanted to like this story and I love the premise – but I just didn't feel any connection.
Perhaps something has been lost in translation, perhaps not.
I've read several books and stories from South Korean authors and I felt a connection, so I don't know what went wrong for me here.
***
Thank you so much for checking out my post! If you liked it let me know by tapping the like button! Feel free to leave a comment too! I reply to all my comments!  🖤
You can also find & follow me in other places! | Bookstagram | Booktube | Twitter
If you'd like to support me there are several ways you can do that! A great way is by using my BuyMeACoffee link! It's safe and secure!

Again, thank you so much for stopping by!  🖤