Barrington Stoke have two recent releases that are on opposite ends of the 'interest' spectrum, and I'm really excited to share them with you!
Barrington Stoke are a publisher that I'm always delighted to work with. If you want to find out more as to why, you can do that by clicking here.
But for now, let's get into the two books!
Survival In Space: The Apollo 13 Mission by David Long
Synopsis: April 1970: Apollo 13 was launched from the Kennedy Space Center in Florida. It should have been the third manned Apollo mission to land on the moon. But when an explosion on board damaged the spacecraft, it became a perilous and near-impossible fight for survival. The crew on board travelled further into space than any other humans before them …

In this gripping retelling of the astonishing Apollo 13 mission, Blue Peter Award winner David Long shows how courage, determination and teamwork succeeded in beating all odds to bring the spacecraft home. A brilliantly accessible, fact-filled and dramatic retelling of an era-defining space mission that has had a lasting impact on pop culture and history, publishing to coincide with the 50th anniversary of Apollo 13's fateful launch.
Review: The Apollo 13 mission is pretty much universally recognised by people who are interested in space exploration, as well as those who aren't. It was a global story and even for those of us who know the way the story ends, hearing about it is still a tense experience. For those who don't know how the story ends, this is going to be a fantastic reading experience.
David Long masterfully retells the story of this non-fiction event in a way that is captivating and it will hold the attention of people of all ages.
The details are both straightforward and real. Never once did it feel 'dumbed down' for the intended child audience. The subject material and the intended audience are treated with incredible respect and it really shows that David Long really cares about this project.
As usual for a Barrington Stoke title, Survival in Space is super accessible for all, including those with reading difficulties. It's a shining example of how non-fiction can be just as creative and enthralling as fiction.
The Ghost Garden by Emma Carroll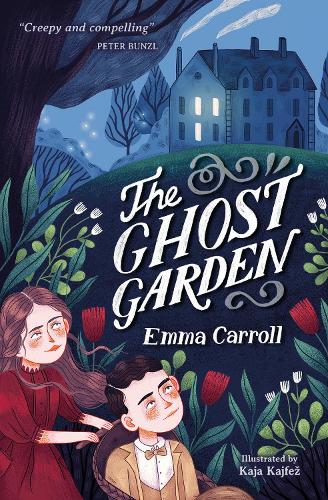 Synopsis: Queen of historical fiction, Emma Carroll, makes her Barrington Stoke debut with a powerful, evocative, and spine-tingling story of childhood on the brink of war.
June 1914. When Fran unearths a bone in the garden of Long Barrow House on the same afternoon that Leo breaks his leg, it triggers a series of unsettling coincidences that leave Fran cold. Roped into keeping wheelchair bound Leo company, Fran is forced to listen to his absurd theories about the looming threat of war in Europe. But as the pair uncover more secrets, the garden seems to be showing them threatening shadows of the future and Fran begins to fear what they'll discover next …
Review: Barrington Stoke are really on to a winner when they got Emma Carroll to write this title. Now I'm not going to lie and say I'm super in to historical fiction, because I'm not. And I'm certainly not a master of it. However I can recognise when a genre is done well, and boy is it done well here!
The Ghost Garden is a really entertaining ghost story (so you know I'm living for that!) and the history is super rich without ever being overbearing! The sense of the time and place works expertly with the atmosphere of the story! The atmosphere is super spooky (but not too intense for children) and the tension is strong throughout!
I love the paranormal vibes are amazing all the way through and the story is fast paced. It makes for a very entertaining story the vivid descriptions just put the icing on the cake!
Also, look at that cover! It was illustrated by the very talented Kaja Kajfež.
So, those are two very different books from Barrington Stoke! One is a science based non-fiction and the other is a paranormal historical fiction. As always, these are both suitable for children and those with reading dissabilities and I highly suggest you check them out!
***
Thank you so much for checking out my post! If you liked it let me know by tapping the like button! Feel free to leave a comment too! I reply to all my comments!  🖤
You can also find & follow me in other places! | Bookstagram | Booktube | Twitter
If you'd like to support me there are several ways you can do that! A great way is by using my BuyMeACoffee link! It's safe and secure!

Again, thank you so much for stopping by!  🖤