Oh don't you judge me! We all do it! If you say you don't then check your pants cos they're on fire! We all buy books based on the cover!

And why shouldn't we? A lot of time, effort and money goes into book cover design (if you're interested in that a little more you can check out my interview with Micaela Alcaino, a book cover designer!) and they are pretty much the first things we see about a book!
So it's only natural to be drawn to, or turned off by, a cover!
So I thought I'd share some of the books I bought based off of their covers. Now I'm not saying that the covers were the only reason I bought these books in every case (some absolutely were!), but they were the reason I bought those specific editions.
So, let's get on to my own personal (and slightly unconventional) Top 10 – I had many more but thought I'd better limit it to 10! These are in no particular order!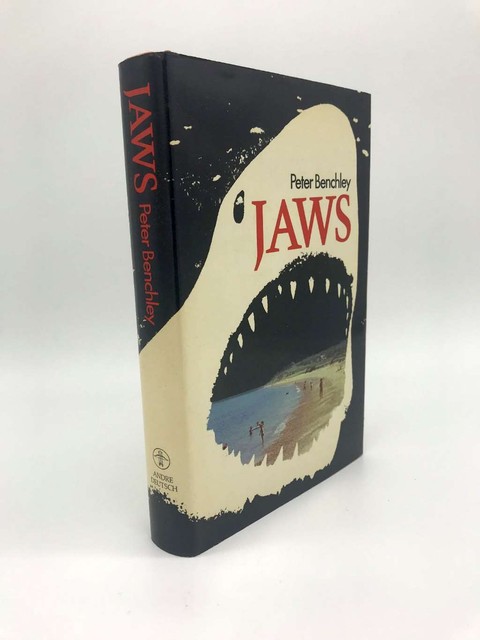 Jaws – Peter Benchley
If you've been around me for a while you'll know that I LOVE sharks and as much as I think they need protecting, I'm trash for shark movies. So naturally this was an obvious choice for me. But this particular edition? It's from 1974 and I found my old tattered, hardback copy at a second hand store and I absolutely adore it!
I'm not a fan of movie posters as book covers at the best of times, hence why I've never really owned this book before. But this cover…*chefs kiss*!
---
Pine – Francine Toon
I mean…just look at that illustration! I immediately got isolation vibes from this book, and something inherently Scottish. And i was right on both counts! Hence picking this book up and taking it to the till!

Plus my edition has a tree stencilled on the edges.

What? No, I haven't read it yet….shut up.
---
My Dark Vanessa – Kate Elizabeth Russell
Ok, so this one was kinda based on the title as well. But the reason why I'm more confident putting this one on my list is because I've seen the other cover – the black and white one – and I know I wouldn't have immediately bought this book if that cover was the only one available to me.

So, as soon as I saw this one I bought it. And no, I haven't read this one yet either. I buy on impulse and I'm a mood reader. Although I did mention this book in my midyear freakout post.
---
Renegades – Marissa Meyer
Ok, own up time. I didn't originally have this edition. I read the ugly-ass UK paperback. And I loved the book but hated the cover. Urgh.

And then I found this beauty in hardback and immediately wanted it. Since then I've made sure the other books in the series match this edition! Because, I mean, well…look at it!

The colour scheme is amazing and the graphics are so sleek and cool! I'm here for it!
---
The Cerulean – Amy Ewing
This cover was such a surprise when I was gifted it! My sister bought it for me for Christmas one year and I'd put it on my wish list for that cover – obviously.

Those moon graphics, the detail in the architecture, the starlit clouds and the falling girl with the tiny burst of yellow. It's all amazing. But the physical cover has a pearlescent sheen and it adds so much more to this already insanely beautiful cover!
---
They Both Die At The End – Adam Silvera
This is another book that, just like Renegades, I read a different edition of and went out looking to buy an alternate cover. I'd seen this version on Instagram and wanted it so badly. I love the details, the shadow especially – are you kidding me? And can you see the face of the Grim reaper in the clouds?

I was lucky enough to find a first edition of this cover and now I'm a proud owner of an amazing edition of the first book to make me cry!
---
To Be Taught If Fortunate – Becky Chambers
This is another book that has two covers, but I saw this one first (and I'm glad I did!). I saw this cover in a bookstore and I was immediately drawn to it. I still can't tell you why, because I have no idea.
However I was so drawn to this cover, and then the title and the blurb that I not only bought it right then and there in the bookshop, but I paid FULL RRP for it! I hardly EVER do that! And this is a novella! It's not even a novel! That's a testament to how much this cover called to me – it called to me like the Ocean calls to Moana! Plus I ended up giving this book five stars!
---
The Court of Miracles – Kester Grant
I mean…do I need to say more? No? Well I'm going to anyway. Not only was this book an instant cover-buy for me, but my edition has navy blue sprayed edges that perfectly match the blue on the cover and the naked book has intricate gold foiling on the front!

I damn near fell over when this arrived in the mail! I haven't read this book yet BUT I'm planning on reading it for the Fates & Fortunes Readathon!
---
In Paris With You – Clémentine Beauvais
This one is a little bit of a cheating one. But you'll forgive me when I tell you why. Ok so this was a mix of the cover being a pastel Parisian dream and the title itself.

You see, I was actually in Paris when I was bought this. By my boyfriend. We were in Shakespeare & Company, in the shadow of Notre-Dame and he knew I wanted to go. He told me to pick out a book and as I browsed the shelves I found this novel in verse. It was never going to be any other book.
---
Number One Chinese Restaurant – Lillian Li
This is one inspired by my absolute adoration of Chinese food. As soon as I saw this cover; the seafoam green, the ornate border, the chopsticks and the duck saying 'A NOVEL' I was sold.

I also bought a takeaway that night because I just couldn't help myself!

Whilst I ended up thinking this was an average book, I still adore the cover and that's why I've kept it! Although I might give it a re-read now that it's been a few years!
---
And that's it for my Top 10 cover buy books! They may not be conventional picks, but they are mine!
What about you? What books did you buy just for the cover! Be sure to let me know, I'm interested to find out!
***
Thank you so much for checking out my post! If you liked it let me know by tapping the like button! Feel free to leave a comment too! I reply to all my comments!  🖤
You can also find & follow me in other places! | Bookstagram | Booktube | Twitter
If you'd like to support me there are several ways you can do that! A great way is by using my BuyMeACoffee link! It's safe and secure!

Again, thank you so much for stopping by!  🖤