Audiobooks are something that I never thought I would have enjoyed until I started listening to them. I thought someone else's voice in my head would be super off-putting, especially with some character voices. And whilst that can be true sometimes, for the majority of the time they are great! They have completely changed my reading habits and now I'm hooked!
Audiobooks tend to only have one narrator, occasionally they'll have two if there are two protagonists that share the book. However, my favourite audiobooks are those that have full casts! They aren't all too common (probably cos they are expensive to produce) but I love them! So here are 3 of my favourite full-cast audiobooks that I've listened to!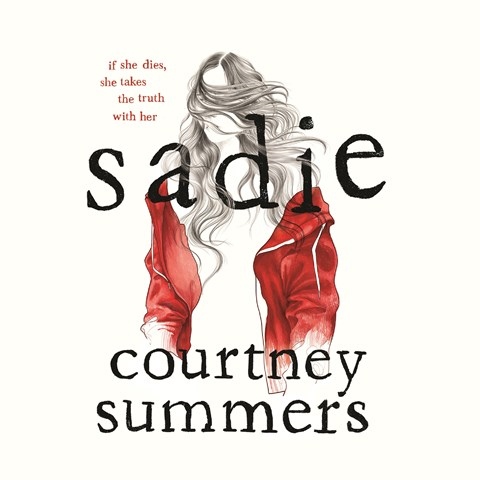 Sadie by Courtney Summers
This is the OG. This was the first full-cast audiobook that I listened to and it blew me away. Not just because of the story, I'd already read it, you can read my review here. I went back for a 're-read' for the audiobook and was so incredibly happy to find it was a full-cast!
What makes this work so well is because Sadie has a podcast within it which, as you can imagine, lends itself brilliantly to audiobook format!
Read by Rebecca Soler, Dan Bittner, Gabra Zackman and a whole heap of other talented actors, Sadie remains one of my all-time favourite audiobook experiences!

The Guest List by Lucy Foley
The Guest List is a fun little thriller from Lucy Foley (whose previous book I didn't enjoy that much) that is lent brilliantly to audiobook format. What's even better is that the actors have authentic accents which just gives the book a much more realistic vibe.

I genuinely think that if I read this myself I don't think I'd have gotten as much enjoyment out of it as I did with the audiobook. The entire cast is extremely talented and the range of emotion is incredible. The edition I listened to starred Lucy Foley, Jot Davies, Chloe Massey, Olivia Dowd, Aoife McMahon, Sarah Ovens and Rich Keeble.
I Killed Zoe Spanos by Kit Frick
This book was exactly what I never knew I was missing. I got major One of Us Is Lying vibes crossed with Sadie and I'm here for it! If you wanna read my mini-review you can do that here.
Just like Sadie this book has a podcast within it and it's just crying out for an audiobook adaptation – luckily we got it! The thriller aspect of this book was really intriguing and I adored the characters! They were really brought to life by yet another talented bunch of actors! Speaking of them, here they are! Jenni Barber, Jayme Mattler, Dan Bittner, Inés del Castillo, Jonathan Davis, Gibson Frazier, Madeleine Maby, Soneela Nankani, Jackie Sanders, Candace Thaxton and Jesse Vilinsky.

And there we have it! Those are my top three recommendations for full-cast audiobooks! Do you have any further recommendations? Pop them in the comments! I'd love to hear about them!
***
Thank you so much for checking out my post! If you liked it let me know by tapping the like button! Feel free to leave a comment too! I reply to all my comments!  🖤
You can also find & follow me in other places! | Bookstagram | Booktube | Twitter
If you'd like to support me there are several ways you can do that! A great way is by using my BuyMeACoffee link! It's safe and secure!

Again, thank you so much for stopping by!  🖤