I'm going to come out and say this straight away: I have a bunch of V.E Schwab's books and I've met her multiple times, yet The Invisible Life of Addie LaRue is only the 3rd book of hers I've read. The first two were audiobooks from her middle-grade series and then this one. And I dunno if I've done myself a disservice here, as I've heard that this is Schwab's magnum opus (and I'm genuinely inclined to agree) so I'm worried that reading her past work might not live up to this gem of a book.
By now there are countless reviews out there gushing over The Invisible Life of Addie LaRue, and most people have rated this 5 stars, so I don't want to bore you with more of the same. However, I only gave this 4 stars so whilst I am going to praise the book where I believe it deserves it, I'm going to discuss why I knocked a star off of it – because it was for 1 reason, and 1 reason alone – and it was big enough for me to knock en entire star off.
Ok – before I get to the good stuff, here's the blurb for The Invisible Life of Addie LaRue – whcih expertly sums it up without giving too much away:
"France, 1714: in a moment of desperation, a young woman makes a Faustian bargain to live forever and is cursed to be forgotten by everyone she meets.

Thus begins the extraordinary life of Addie LaRue, and a dazzling adventure that will play out across centuries and continents, across history and art, as a young woman learns how far she will go to leave her mark on the world.

But everything changes when, after nearly 300 years, Addie stumbles across a young man in a hidden bookstore and he remembers her name."
If you'd prefer to watch my review you can do that here, otherwise just scroll on for my written review!
Ok on to the stuff I liked!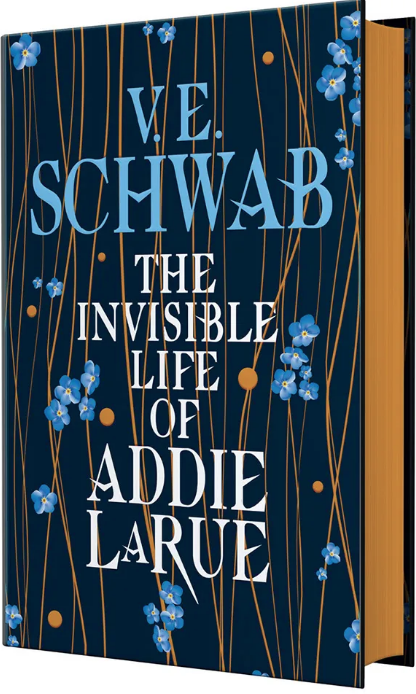 Let's talk about the prose. I can't really compare it to any of her previous works as I've only read her middle-grade stories and obviously with this being adult fiction (I'm fairly sure it's classed as adult) it's not really a fair comparison. But regardless, the prose is incredibly poetic. Usually this can get overly flowery very quickly, but Schwab manages to keep things melodic and magical without ever being fluffy.
The flow of the novel was perfect, and I never felt like sentences dragged or were too much or little.
The whole story truly is a form of art, and that reflects perfectly with its contents as they discuss the impact and importance on art not only as a mirror to our society but as a tool to find and lose oneself.
The exploration of power dynamics is enthralling and it's a real heartstring-tugger to read about the length humans will go to to try and feel a sense of belonging.
The Invisible Life of Addie LaRue is a book to completely take your time with if I've ever read one. each chapter should be savoured and fully enjoyed. It took Schwab nearly 10 years to write it and she has said that she has put her "heart and soul, my teeth and blood and bones into this one" and it shows.
However, it's not perfect, and there's a few issues I had.
The first is that it got repetitive after a while. There was a super interesting start and then there was a huge chunk where nothing happened except that Addie and Henry made goo-goo eyes at each other and we got more flashbacks that didn't contain anything new. Also, Luc showed up and tries to mess with Addie…again. That whole thing repeated for longer than it should have and although it was a bit irritating, it wasn't the issue that made me drop the star.
There was a glaring issue I have with the book that I can't look past and can't forget because it honestly took me away from the book and pretty much ruined it for me.
What I'm about to discuss is a SPOILER. So if you haven't read it and DON'T want to be spoiled don't read any further.
So last warning – SPOILERS AHEAD
I had a HUGE issue with Luc falling in love with Addie. I'm sorry, what? Why?
Essentially a GOD who has been around since pretty much the dawn of time and has seen/met countless humans over his multitude of years…falls in…LOVE with a human? A non-human entity, who only takes the form of a human to be recognisable to Addie, and who has an agenda that far outweighs human comprehension…falls in love with a human….cos she's…..stubborn….and has a strong will?
Nope. Not buying it. It completely ruined everything for me. I felt it was so unrealistic and it came out of nowhere.
I was SO hoping it was him playing a trick to try and get her soul, but nope. He legit fell in love with her. And has sex with Addie…on top of that…has the DESIRE for sex; human sex. A formless god-like entity suffers the same desires of the flesh as humans?
I JUST DON'T BUY IT!
I'm sorry, but I don't. I thought it was a stupid, stupid plot point and for me, it shattered all the believability and immersion that Schwab had worked so hard to build up to near perfection.
And I also don't believe that he wouldn't have caught Addie's clever use of words at the end when she makes her bargain. Am I to believe that Luc is SO enamoured with Addie (again – a HUMAN) that he was blinded to it – when tricky words and dirty deals are his whole raison d'etre?!
Nope. I refuse. And this aspect ruined what could have been a fucking outstanding book for me and forced it out of the 'extraordinary' category and firmly places it in the 'yeah, it's pretty good' category.
I enjoyed it, and I will for sure remember it because it's a fantastically written book – but I'm upset that I'm going to also remember how let down and angry I felt at that awful plot point.
I'll definitely be buying it and I'll re-read it, but I'm happy to wait for a paperback or second hand copy. Especially as the UK copy has an ugly burst (perma-sticker) on it – shallow, I know. But true!
But yes, I'll remember Addie.
***
Thank you so much for checking out my post! If you liked it let me know by tapping the like button! Feel free to leave a comment too! I reply to all my comments!  🖤
You can also find & follow me in other places! | Bookstagram | Booktube | Twitter
If you'd like to support me there are several ways you can do that! A great way is by using my BuyMeACoffee link! It's safe and secure!

Again, thank you so much for stopping by!  🖤