Yeah…I'm not the best at keeping to these sorts of lists. My track record is pretty grim (aka – shit).
But I've had a serious think about my own personal little library, and I unhauled a LOAD of books – I'm talking over 200 books throughout 2020. Part of this was because I was illegally evicted (I'll tell the story one day, but I won!) so I needed to reduce my 'stuff'. for moving. And during this time, I had a realisation that I didn't want books 'just because' or 'just to fill out my library'. I wanted a curation of my favourites, my loves, my anticipated etc. Basically, books I felt something for.
So this time I reckon I'll be able to stick to this list relatively well, as I've already cut down my existing library by over half, and I already want to read these books anyway, and they survived what I've dubbed as the 'great cull of 2020'.
I'm also limiting this list to 10 books, as there are so many amazing books coming out in 2021 that I want to make room for. Plus, my goodreads goal for 2021 is 100 books, so I think 10 books I already have, 10%, seems realistic.
So, here they are – 10 books I already own that I want to read in 2021.
Shine – Jessica Jung
This was a book I really wanted to get to before the end of 2020, but then the UK Government fucked christmas plans up at the last minute for a lot of people and I was really sad for a few days and barely left the bed, nevermind read anything. So I didn't get to it, even though I know it'll be happy. Oh well, let's try for 2021, yeah?
Synopsis:
From internationally renowned K-pop legend Jessica Jung comes a fresh YA novel that peels back the curtain on the intense world of K-pop from the perspective of a Korean American girl, like Jessica, who is scouted off the street and thrust into an unknown world of competition, strict training and wild fame.
What would you give for a chance to live your dreams? For seventeen-year-old Korean American Rachel Kim, the answer is almost everything. Six years ago, she was recruited by DB Entertainment – one of Seoul's largest K-pop labels, known for churning out some of the world's most popular stars. The rules are simple: Train 24/7. Be perfect. Don't date. Easy right?
Not so much. As the dark scandals of an industry bent on controlling and commodifying beautiful girls begin to bubble up, Rachel wonders if she's strong enough to be a winner, or if she'll end up crushed . . . Especially when she begins to develop feelings for K-pop star and DB golden boy Jason Lee. It's not just that he's charming, sexy and ridiculously talented. He's also the first person who really understands how badly she wants her star to rise.
Crush – Tracy Wolff
See, above. Sad, Christmas, happiness, etc. Here's to 2021.
Synopsis:
Danger, romance and excitement await in the unputdownable and addictive New York Times bestselling sequel to Crave.
When she arrived at Katmere Academy, mortal Grace's world turned upside down. Now back at the school, she is haunted by fragments of days she doesn't remember living, as she struggles to understand who, or what, she really is.
Finally reunited with Jaxon, Grace begins to feel safe again – until Jaxon's brother, Hudson, reappears with a vengeance. He insists there are secrets Grace doesn't know, threatening to drive a wedge between her and Jaxon forever.
But there are far worse enemies at their doorstep – and the only thing Hudson and Jaxon can agree on is that leaving Katmere would mean Grace's certain death.
Unless they can defeat an unspeakable evil, everyone's lives are at risk. But winning will require a sacrifice. And it could be more than they can give.
Kingdom of Exiles – Maxym M. Martineau
I've had a copy of this book for a short while now. It's a teeny, tiny floppy mass market paperback and there's just something about it that calls to me. That cover maybe? It's actually…kinda awful 😂 but I love it anyway!
Synopsis:
My heart wasn't part of the deal when I bargained for my life,
But assassins so rarely keep their word.
Exiled Charmer Leena Edenfrell is running out of time. Empty pockets forced her to sell her beloved magical beasts–an offense punishable by death–and now there's a price on her head. With the realm's most talented murderer-for-hire nipping at her heels, Leena makes Noc an offer he can't refuse: powerful mythical creatures in exchange for her life.
Plagued by a curse that kills everyone he loves, Noc agrees to Leena's terms in hopes of finding a cure. Never mind that the dark magic binding the assassin's oath will eventually force him to choose between Leena's continued survival…and his own.
Jaws – Peter Benchley
Ahhh – a true modern classic. I know the author has since regretted this novel as it helped inspire the film that went on to inspire demonisation of sharks (people are fucking idiots) but I adore both sharks and trashy shark books/movies. So I really want to read this. I also have a really old edition of this book that I wanna read.
Synopsis:
Peter Benchley's Jaws first appeared in 1974. As well as Steven Spielberg's film adaptation, the novel has sold over twenty million copies around the world, creating a legend that refuses to die – it's never safe to go back in the water…
It was just another day in the life of a small Atlantic resort until the terror from the deep came to prey on unwary holiday makers. The first sign of trouble – a warning of what was to come – took the form of a young woman's body, or what was left of it, washed up on the long, white stretch of beach…
These Violent Delights – Chloe Gong
I got this in a Fairyloot box and was completely sold by the premise of 1920's Shanghai. Enough said!
Synopsis:
A blood feud between two gangs runs the streets red, leaving the city in the grip of chaos. At its heart is eighteen-year-old Juliette Cai, a former flapper who has returned to assume her role as the proud heir of the Scarlet Gang – a network of criminals far above the law. Their only rivals in power are the White Flowers, who have fought the Scarlets for generations. And behind every move is their heir, Roma Montagov, Juliette's first love . . . and first betrayal.
But when gangsters on both sides show signs of instability culminating in clawing their own throats out, the people start to whisper. Of a contagion, a madness. Of a monster in the shadows. As the deaths stack up, Juliette and Roma must set their guns – and grudges – aside and work together, for if they can't stop this mayhem, then there will be no city left for either to rule.
Horrid – Katrina Leno
This was a complete and total cover-want-to-read and very little else. Hey, at least I'm honest.
Synopsis:
Following her father's death, Jane North-Robinson and her mom move from sunny California to the dreary, dilapidated old house in Maine where her mother grew up. All they want is a fresh start, but behind North Manor's doors lurks a history that leaves them feeling more alone…and more tormented.
As the cold New England autumn arrives, and Jane settles in to her new home, she finds solace in old books and memories of her dad. She steadily begins making new friends, but also faces bullying from the resident "bad seed," struggling to tamp down her own worst nature in response. Jane's mom also seems to be spiraling with the return of her childhood home, but she won't reveal why. Then Jane discovers that the "storage room" her mom has kept locked isn't for storage at all–it's a little girl's bedroom, left untouched for years and not quite as empty of inhabitants as it appears….
Is it grief? Mental illness? Or something more…horrid?
Kingdom of the Wicked – Kerri Maniscalco
Another Fairyloot box book and I hope this is gonna be a little dark and sexy.
Synopsis:
Emilia and her twin sister Vittoria are streghe – witches who live secretly among humans, avoiding notice and persecution. One night, Vittoria misses dinner service at the family's renowned Sicilian restaurant. Emilia soon finds the body of her beloved twin . . . desecrated beyond belief. Devastated, Emilia sets out to find her sister's killer and to seek vengeance at any cost-even if it means using dark magic that's been long forbidden.
Then Emilia meets Wrath, one of the Wicked-princes of Hell she has been warned against in tales since she was a child. Wrath claims to be on Emilia's side, tasked by his master with solving the series of women's murders on the island. But when it comes to the Wicked, nothing is as it seems.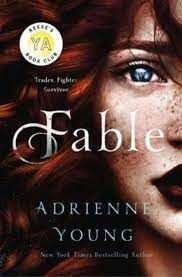 Fable – Adrienne Young
I've heard really good things about this book, and I'm so glad the Fairyloot edition is so pretty! It's short so hopefully I'll get to it!
Synopsis:
Welcome to a world made dangerous by the sea and by those who wish to profit from it. Where a young girl must find her place and her family while trying to survive in a world built for men.
As the daughter of the most powerful trader in the Narrows, the sea is the only home seventeen-year-old Fable has ever known. It's been four years since the night she watched her mother drown during an unforgiving storm. The next day her father abandoned her on a legendary island filled with thieves and little food. To survive she must keep to herself, learn to trust no one and rely on the unique skills her mother taught her. The only thing that keeps her going is the goal of getting off the island, finding her father and demanding her rightful place beside him and his crew. To do so Fable enlists the help of a young trader named West to get her off the island and across the Narrows to her father.
But her father's rivalries and the dangers of his trading enterprise have only multiplied since she last saw him and Fable soon finds that West isn't who he seems. Together, they will have to survive more than the treacherous storms that haunt the Narrows if they're going to stay alive.
We Are The Wildcats – Siobhan Vivian
I got this in a trade in 2020 and I just haven't gotten around to it yet (story of my life!)
Synopsis:
A toxic coach finds himself outplayed by the high school girls on his team in this deeply suspenseful novel, which unspools over twenty-four hours through six diverse perspectives. Tomorrow, the Wildcat varsity field hockey squad will play the first game of their new season. But at tonight's team sleepover, the girls are all about forging the bonds of trust, loyalty, and friendship necessary to win.
Everything hinges on the midnight initiation ceremony–a beloved tradition and the only facet of being a Wildcat that the girls control. Until now.
Coach–a handsome former college player revered and feared in equal measure–changes the plan and spins his team on a new adventure. One where they take a rival team's mascot for a joyride, crash a party in their pajamas, break into the high school for the perfect picture. But as the girls slip out of their comfort zone, so do some long-held secrets. And just how far they're willing to go for their team takes them all–especially Coach–by surprise.
A testament to the strength and resilience of modern teenage girls, We Are the Wildcats will have readers cheering.
The Fell of Dark – Caleb Roehrig
My amazing friend bought this for me after I won a giveaway, and I really need to get round to this cos I've heard it's excellent!
Synopsis:
What's a boy to do–in Caleb Roehrig's YA paranormal romance The Fell of Dark–when his crush is a hot vampire with a mystery to solve?
The only thing August Pfeiffer hates more than algebra is living in a vampire town.
Located at a nexus of mystical energy fields, Fulton Heights is practically an electromagnet for supernatural drama. And when a mysterious (and annoyingly hot) vampire boy arrives with a cryptic warning, Auggie suddenly finds himself at the center of it.
An ancient and terrible power is returning to the earthly realm, and somehow Auggie seems to be the only one who can stop it.
***
Thank you so much for checking out my post! If you liked it let me know by tapping the like button! Feel free to leave a comment too! I reply to all my comments!  🖤
You can also find & follow me in other places! | Bookstagram | Booktube | Twitter
If you'd like to support me there are several ways you can do that! A great way is by using my BuyMeACoffee link! It's safe and secure!

Again, thank you so much for stopping by!  🖤